Rolling Jokers is the newest racing strategy game that will double the fun on your game nights. This is played by as few as two to four players and as many as 8 players. The game uses playing cards to move the marbles around the board. The goal of the game is to be the first to move all your marbles around the board and from the start area to the home areas, all while dodging your opponents or getting stuck behind your marbles. This game was inspired by Jokers and Marbles and developed into a more challenging game that will be perfect addition into your family board games.
The elegant look and feel of this best board games for kids and adults came from a board game and card games enthusiast, Ramon Gonzalez. He wanted to create a game that can motivate people of all ages to spend quality time with family and friends thus creating this family board game. With this game, he envisioned that families get to enjoy each other's company, have a lot of fun, and make good memories while playing the game. Plus, this game not only provides an opportunity to catch up with one another but also helps to foster a sense of cooperation and competition. One of the best things about this game is that it can be played anywhere, whether you're at home, on vacation, or even at the park.
A family that plays together, have fun together!
That may be a cliché, but there's a lot of truth to it. Spending quality time with family is essential for maintaining strong relationships. When families take the time to play together, it gives them a chance to bond and connect in a way that simply sitting around and talking can't. It also allows them to let off some steam and just has fun without having to worry about the day-to-day stresses of life. What's more, playing together helps families to learn more about each other. Board games provide an opportunity to have fun and relax, but they can also be used to teach important life lessons. When you take the time to connect with your family on a deeper level, you create lasting memories and build a foundation of support that will last a lifetime. And, because this is easy to learn, even young children can join in on the fun! Not only do they provide an opportunity for playful competition, but it also helps to promote communication, personal interaction, taking turns, and following the rules. With family board games like this, families can strengthen their relationships and create a lifetime of happy memories.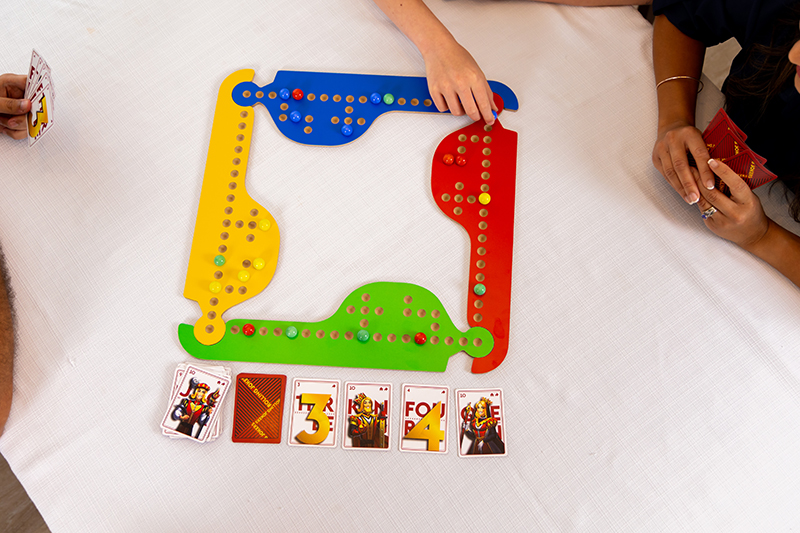 Why Play Rolling Jokers?
This is a game that has many benefits for children. It is a fun game that helps children develop various skills that are vital in their formative years. One of the benefits of jokers and marbles is that it enhances hand-eye coordination. The player must use their hand to guide the marble into the home area, and this requires a great deal of coordination. Additionally, it helps to develop fine motor skills. The player must have a steady hand to place the marble accurately, and this helps to improve dexterity. It is also a good way for them to socialize and interact with other children. Rolling Jokers requires players to use the playing cards to strategically move marbles across multiple boards. This process helps children to develop planning and problem-solving skills. This encourages children to think about both their own goals and the goals of others, and it helps them to acquire important negotiation skills. As a result, it is an excellent way for children to learn important visual-tactile and social skills.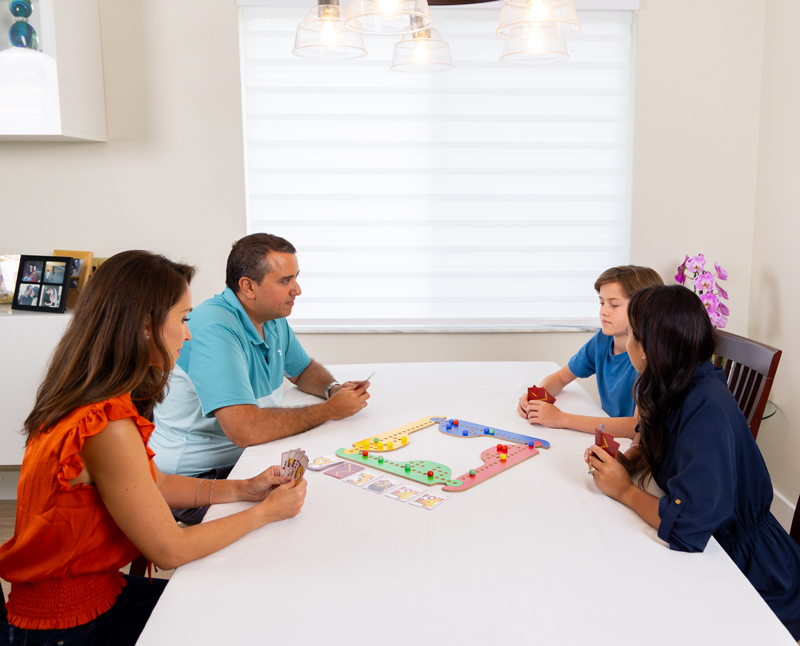 Stop Screen Time Together as a Family
There's also no denying that gadgets are a big part of our lives. We use them for entertainment, work, and communication. This can be harmful to our health, both mental and physical. Our eyesight suffers, and our sense of time can be affected. However, there's something to be said for disconnecting from our devices and spending some time with your family while playing a good old-fashioned board game. Playing a board game stimulates us to use our brains in different ways than we're used to when we're staring at a screen. It is an incredible board game that doesn't require using gadgets. It is a great example of a game that can be just as fun as any video game. It helps to improve our critical thinking skills, problem-solving skills and allows us to socialize with other people.
This game encourages people to stay active, both mentally and physically. It can also promote social interaction and provide a much-needed break from the hustle and bustle of everyday life. And let's not forget the element of fun! Board games can be hilarious and engaging, even more so than gadgets sometimes. So next time you're feeling the urge to reach for your phone, try playing a game instead. It might just help you stay away from gadgets for a while.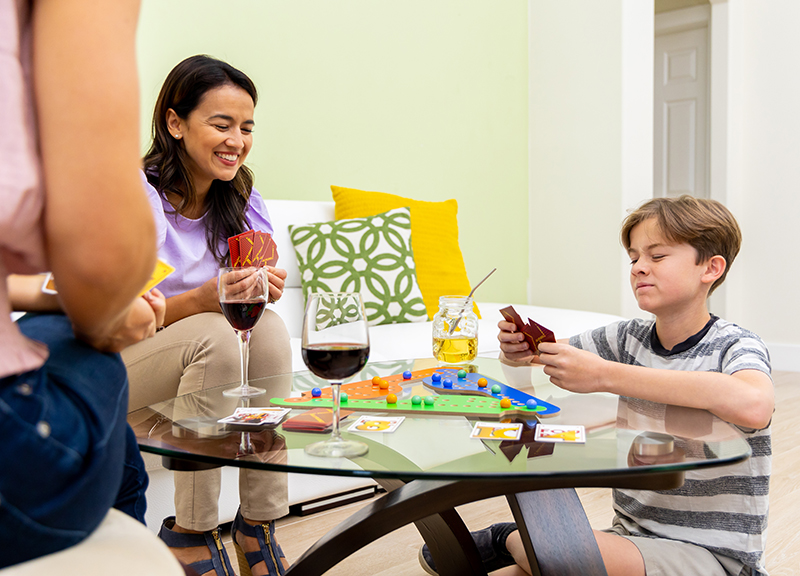 Premium Family Board Games
40 Marbles of Eight Vivid Colors
1 Printed Playing Instructions
3 Decks of Playing Cards (165 Cards)
1 Drawstring Bag
8 14" Solid Hardwood Game Paddles
Hardwood Game Paddles 
The hardwood paddles are long, inches high, and thick which gives the game a more classic look and feel. We use only the highest quality materials, and our paddles are made to last. The game set has 8 multi-colored paddles that are handcrafted from the finest hardwoods, and they're designed to provide a superior gaming experience. The wood is then sanded and finished with a smooth lacquer, making it resistant to warping and splintering. The paddles interlock with loose round mortise and tenon joints that allows it to move freely, making it easy to maneuver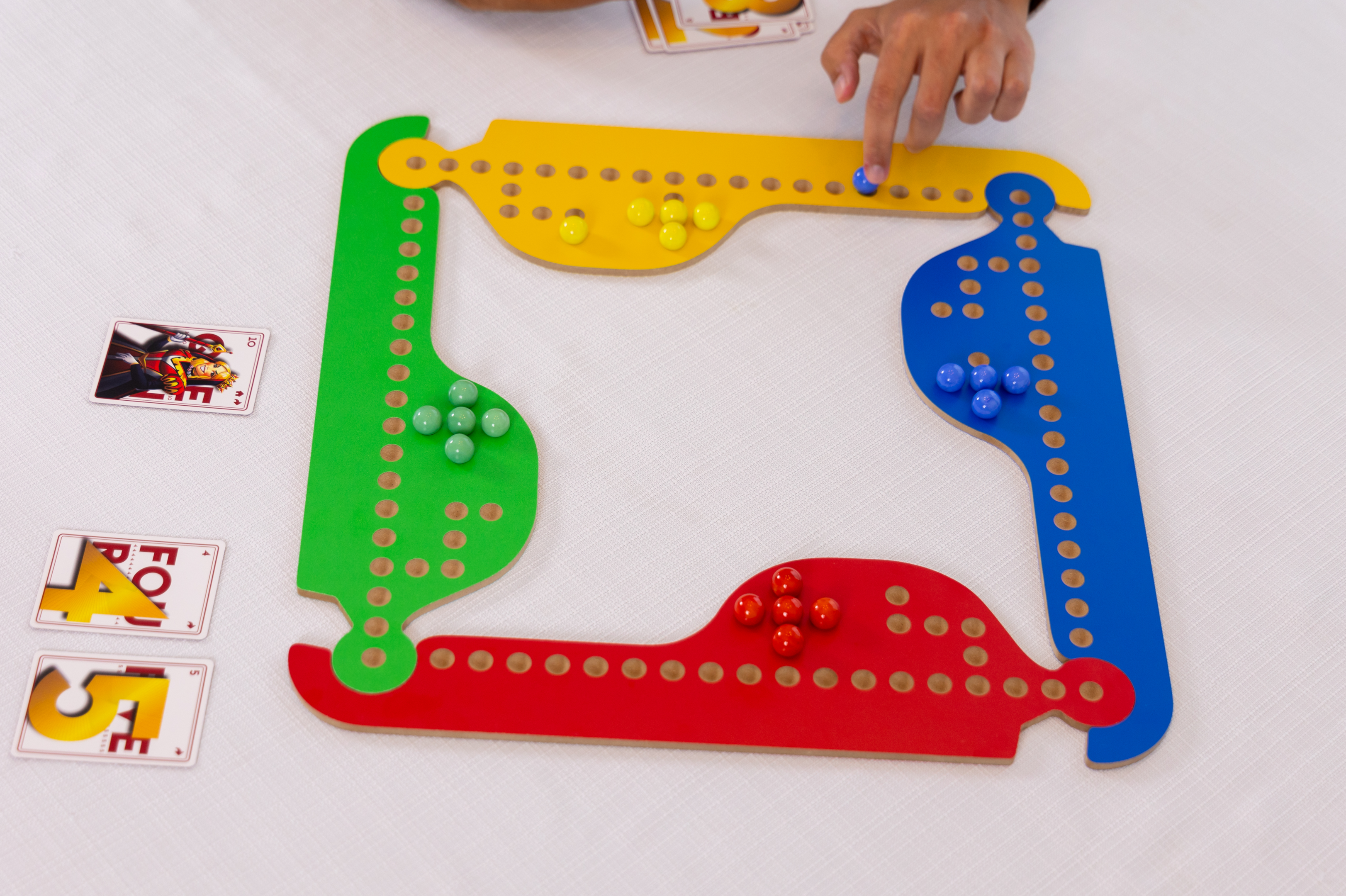 Marbles 
There are 6 marbles for each game paddle. A total of 48 marbles with eight different colors are used in the game. Its size is about 13 mm (1⁄2 in) in diameter and is made with opaque glass. The marbles have a solid, smooth, cool, sophisticated stone feel. Its high gloss surface shine brings out the depth of the color in the stone.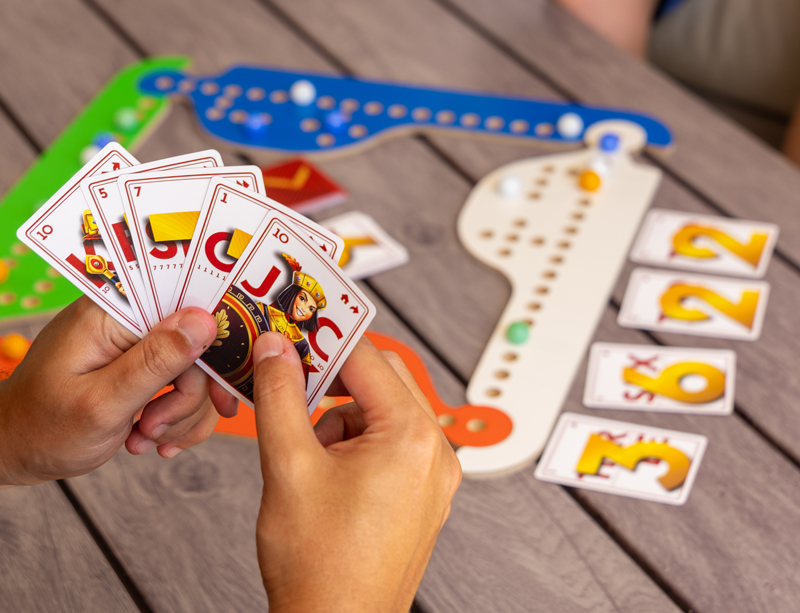 Unique Playing Cards
This game uses a specially designed 3 deck of cards. It has a total of 165 cards with unique artwork and stylish customization that are essential in winning the game. The cards are 2.5 inches by 3.5 inches (64mm X 89mm) and 0.17mm and 0.24mm thick. These cards are made with high-quality materials and use the process called air-cushioning to create them. The process gives it a soft feel and also makes them very smooth to the touch. Each card is coated with a layer of plastic that helps to protect them from moisture, wear and tear. The upper left corner of the cards has index numbers and symbols, which make the card value visible when held in a fan position. The backs of the cards are decorated with a distinctive pattern indicative of the game.
Award Winning Board Games for Kids and Adults
Rolling Jokers is delighted to be a recipient of this year's Mom Choice Awards! We are honored that our family and party game experience has been recognized for its fantastic friendly fun for kids and adults. The award, presented to family-friendly videos and products, acknowledged Rolling Jokers' impact on the positive development of children nationwide. Our primary goal is to make memories that last a lifetime, and these awards are proof that we are achieving just that. We strive every single day to bring smiles and laughter to all who come to experience the Rolling Jokers brand – no matter who they are. Parents everywhere praised the brand for their uplifting, inspiring storylines and characters that help cultivate a better tomorrow within the future generations. Though there is much work yet to be done, Rolling Jokers has taken a step in the right direction as an advocate for quality content. This win will open doors and create opportunities for kids and adults to experience meaningful experiences through entertainment.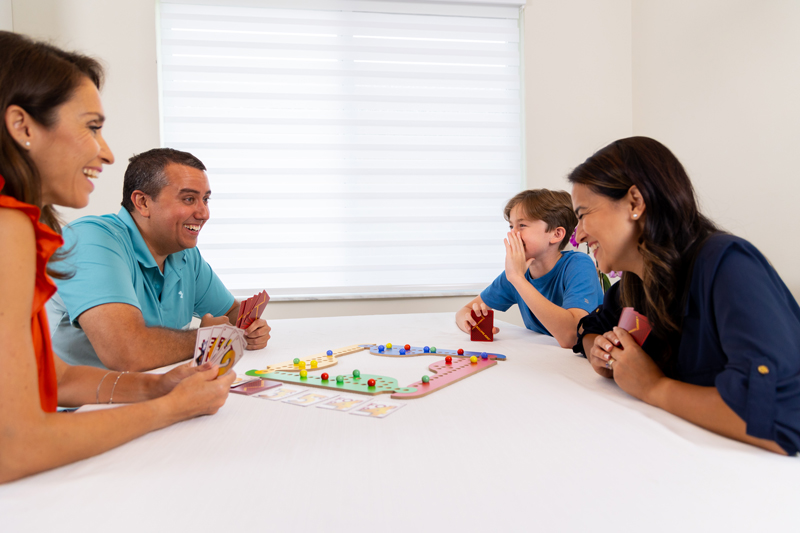 Where to Buy this Family Board Games for Kids and Adults
Wondering where to buy Rolling Jokers? Look no further than our online store, as it's become increasingly popular over time. Ordering from the store is simple; choose your product and have it shipped directly to your doorstep in no time. The Rolling Jokers store also provides the best customer service, ensuring you get exactly what you need when you need it. Whether stocking up for yourself or making a gift for someone special, Rolling Jokers are always a good way to go!
Fun to Play Around the Board
The first time that my friends and I played the Rolling Jokers, we were rough on the edges as we were just learning how to play it. We were just starting to decipher the game that will be a new addition to our game nights. As we opened the game set, the inclusions wowed us. The materials that they have used in the game are aesthetically pleasing and of high quality. The paddles felt like it was made with a sturdy wood panel that would last longer. All the cards are created with a shiny finish that gives them an elegant look and crispness. The marbles have vivid colors that complement the boards. Moreover, we were excited to play the game but none of us had ever played it before, so we were all learning as we went along. I don't remember who won that first game, but I do remember how much fun we all had.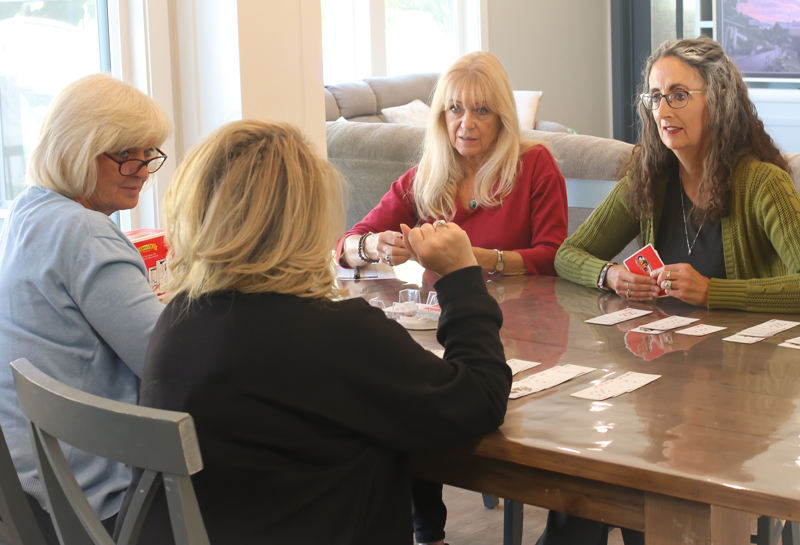 Make Rolling Jokers the Next Fun Family Party Game
There's something special about playing this new board game for family game for the first time. It's a chance to step into a new world, to explore and discover. If you're feeling nervous about playing a game for the first time, here are a few tips to help you out:
First, read the instructions carefully. This will give you a good understanding of how the game is played.
Second, don't be afraid to ask questions. If you're still unsure about something, chances are other people are too. And it's also a chance to test your skills and see if you can rise to the challenge. Even if you're familiar with the mechanics of the game, there's always an element of uncertainty when you start playing.
Will you be able to figure out the right strategy? Will you be able to beat your opponents and come out on top? Only by playing can you find out.
Finally, relax and enjoy yourself. Games are meant to be fun, so try not to take things too seriously.
So next time you're looking for a great way to spend some quality time with your loved ones, play this board game for family, kids and adults, too. You might just be surprised at how much fun you have!