Looking for a fun way to spend time with your partner on hearts day? Check out our list of the best board games for couples!
It's different from spending quality time with your significant other, whether eating out or going on walks. But if you're looking for an activity to bring you and your better half closer together, why not try playing board games for couples?
A great board game can be an entertaining and rewarding way to spend time together as a couple. They provide hours of entertainment for both of you and allow for conversation and team-building experiences that can positively influence your relationship in the long term.
When deciding what couples board games to play together, consider factors such as how long you have to play and the level of difficulty needed—do you want simple short games, classic board games, or are you looking for strategy games, trick-taking games, and fast-paced games? If this is your first choice for playing games, you might want to start with more straightforward options.
Whatever game board you choose, make sure there are enough pieces included so that each person has one set—after all, there's nothing worse than fighting over who gets the last bit! Additionally, set up clear rules and a scoring system from the start so that everyone knows which ones apply during the game. You should also stick strictly to agreed-upon house rules; trust us when we say it can get pretty heated if someone takes certain liberties with them!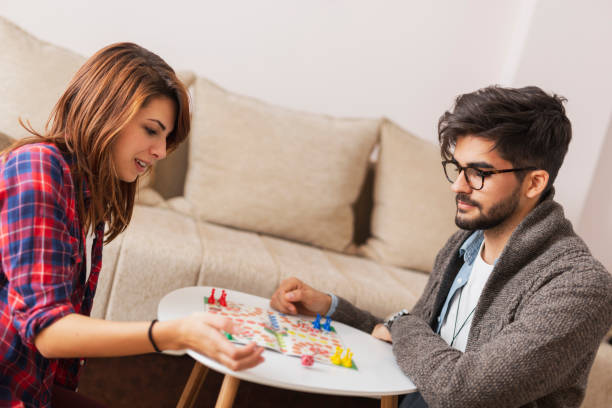 Once the rules are taken care of, sit down and start playing! If at any point things don't feel right or fair between players (which will happen no matter how hard everyone tries!), talk about it openly so that solutions can be reached without too much arguing. This is an excellent opportunity for couples to practice communicating effectively while having much fun.
Remember that winning isn't everything! Board games often serve more purpose than just entertaining competition—they offer you two a chance to bond in ways just talking alone cannot replicate. So grab some snacks and get ready for lots of laughs; playing board games as a couple is sure to be an unforgettable experience!
This is the hot list of the best board games for couples that will fire up your date night:
LOOPY: Adult Game for Couples
Players: 2 | Age: 18+ | Game Time: 30 minutes
Are you looking for a fun activity to spice up date night with your significant other? Look no further than the LOOPY Adult game for couples. This imaginative, fast-paced board and card game help couples of all ages get to know each other better in new, creative ways.
The game mechanics are simple: answer the questions on each card as honestly and quickly as possible. Then, each couple will take turns drawing cards from the box and responding to the question or challenge printed on them. The game begins after choosing from the three levels of difficulty – easy, medium, or complicated – so players can play to their skill level.
How to Play:
> Gather your friends who are 18 or over in one place and make sure they are comfortable with each other.
> Begin the game by choosing a dealer to pass out cards and take turns going around the group as everyone plays their cards.
> The game's goal is to score points by winning rounds, where everyone has a turn to play an action card, then vote on a winner based on whose card got the most votes.
> Each round starts with a dealer drawing five cards from the deck of action cards and giving each person one card at random.
> Everyone takes turns playing their action cards, either face up for everyone to see or face down, depending on what type of card you have in your hand.
> After all players have played their action cards, it's time to start voting! First, the dealer will ask everyone to vote on which action was the best overall, and whichever gets the most votes wins that round.
> When someone reaches 15+ points, they win! Points are accumulated by being voted as having the best action each round.
This excellent game is exciting because something new and unpredictable is always involved. Players are encouraged to be spontaneous, have conversations they never thought would come up before, and explore one another in an entirely different way. It's a great way to learn more about each other beyond the typical surface-level topics; players can find in-depth details they never knew!
Plus, it's incredibly entertaining! The questions range from silly questions like "If you were a cartoon character, who would you be?" to more challenging ones like "What would you do if you had $1 million?" Every card comes with new possibilities and conversations that can last for hours!
For those looking for an innovative way to spice up date night or spend quality time with their significant other, look no further than LOOPY adult game for couples. It's an exciting and engaging way to learn more about one another in a creative and entertaining setting!
The Discovery Game
Players: 2+ | Age: 18+ | Game Time: 60 minutes
Welcome to an adventure like no other – an experience full of thoughtful conversations, meaningful connections, and memorable moments. This is The Discovery Game, a couples board game designed to spark conversations and break down barriers between couples.
The Discovery Game is more than just your typical game night. It's about getting to know your partner better and creating unforgettable experiences that strengthen relationships. It makes communication easy as players answer thought-provoking questions about themselves and their relationships. These conversations will help you uncover new worlds and perspectives or reinforce the bonds that hold you together as a couple.
How to Play:
> Each person takes turns rolling the dice and drawing a card.
> The illustrated cards have simple tasks the couple should do together, like having a conversation or taking on an activity.
> Take turns rolling the dice and continue taking turns until all the cards in each player's stack are finished.
> Whoever has the most points at the end of the game wins!
It doesn't matter if you have been together for decades or have only been dating for a few months; The Discovery Game has something for everyone. And perhaps the best part? You don't have to be indoors all night – take the conversation outdoors on a romantic date or share your experiences with friends around the campfire under the stars! Enjoy the fresh air while exploring each other's personalities in this ever-changing world we live in today!
The Discovery Game is an award-winning board game that helps bring people closer together by opening up lines of communication through meaningful conversations. Create memories for years to come with this exciting couples board game – so why wait? Get started on your adventure now!
Love is Blind
Players: 4-10 | Age: 17+ | Game Time: 60 minutes
Couples who have grown bored with classic board games are lucky – Love is Blind has arrived! This game has become increasingly popular since its debut, and it's easy to see why. In Love is Blind, couples must answer questions about one another as if they were strangers.
The game's object is for players to challenge themselves to figure out each other's answers. To do this, couples take turns being blindfolded while their partner reads a list of questions aloud. The person wearing the blindfold can only listen and can't make any guesses or demonstrate facial expressions. Meanwhile, the partner with the questions must answer truthfully without providing too much detail.
How to Play:
> Choose one game character for each player.
> Take turns to roll the die and move your game piece around the game board according to the amount you rolled.
> Collect Love is Blind cards and add them to your pile as you land on specific spaces.
> Take turns reading out loud a card from your pile and answer the question it poses with an honest answer.
> Score points when you guess correctly what your partner responded to their Love is Blind card.
> The player who reaches the Finish Space at the end of the board first wins!
The great thing about Love is Blind is that there are many variations in how people can play the game. Couples can modify or expand upon the existing rules to include things like time limits or different questions and clues depending on what their relationship needs most. It also provides quality entertainment when playing with family or friends – because everyone loves guessing games! And even those who are unfamiliar with it can get up-to-speed quickly with brief instructions provided by its creators online.
Love is Blind will surely bring good times into any household and help strengthen relationships between loved ones, no matter how long they've been together or their relationship stage. So if you're looking for something new and exciting to add spark into your family gatherings, try out Love is Blind today!
Telepaths: Couple vs. Couple Board Game
Players: 4-6 | Age: 16+ | Game Time: 30-60 minutes
Telepaths: Couple vs. Couple Board Game is a two-player strategy game where each team has its own set of cards, and they must work together to reach the finish line first. The game can be played with either of you as the start player, so it's completely customizable. With over 200 tiles and more than 30 puzzles, you'll get plenty of enjoyment out of playing this together.
One unique feature of this game is that both partners are constantly engaged in the action, which makes it very enjoyable to play. Each card has various tasks that need to be completed by both players to progress, such as combining objects or using special powers. This keeps both players involved throughout the game, whether making moves or trying to figure out clues. However, it also means that there are no correct answers – each solution will require collaboration between the two players.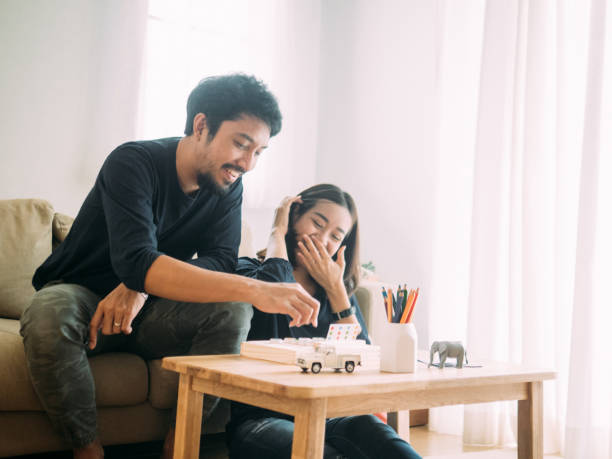 How to Play:
> Each player will designate three meeples (couples) they are playing with.
> The two teams take turns placing their meeples on the game board to try and create connections between them.
> Connections must be made through a path of at least two connected empty squares, diagonal or straight line, and cannot double back on itself.
> After each team has placed their meeples, each team has a turn to 'teleport' one of them up to two squares away. No teleport can be used twice in one round, and no teleport can cause a meeple to overlap with another or land on an occupied square.
> Special powers can also be used at any time, as long as both players agree to it before using it
> Once all nine rounds have been completed and all teleports have been used up, points are awarded for each connection made, with higher thresholds for longer relationships.
> If both teams are tied at the end of the game, then an extra round is added with only teleports allowed; whoever makes more connections wins the game.
> The team that succeeds in making the most connections by the end of the game wins.
A significant benefit of Telepaths is its replayability value; after each match, players can mix up the pieces and create entirely new puzzles while still being able to use previously collected pieces from different sets – meaning you'll never get bored! Even special powers are included in some sets that add an unpredictable element that keeps things interesting every time you play.
This offers an exciting challenge for couples who want something new and stimulating for date night or to spend quality time together at home. With multiple levels of difficulty available and unlimited possibilities regarding creative problem-solving, this is one board game every couple should check out!
Monogamy
Players: 2 | Age: 18+ | Game Time: 60 minutes
Monogamy is a game designed specifically for couples that brings an exciting and unique twist to traditional board games. This game encourages communication and interaction between partners while also inspiring intimacy and romance in the process. It's an excellent way for couples to have fun without feeling like they must compete with one another for points or tokens.
The goal of the game is simple yet rewarding. Players must answer questions about each other accurately to gain "intimacy points," with the winner being the one who accumulates the most points by the end of the round. But instead of just getting points, players can also earn rewards from each other such as massages, hugs, compliments, or even something naughty! This adds another layer of engagement to the game, making it even more enjoyable.
How to Play:
> Play Monogamy by inviting your friends and family to join a game; they can play with 2-6 people.
> Roll the dice to move around the board.
> Take turns with other players picking up cards from each space you land on, looking for sets of three matching pictures.
> When a player lands on a center inner circle space, they get to pick a category card and begin playing that category's questions or mini tasks.
> Players must answer questions, recite definitions or perform mini-tasks correctly if their opponent challenges them.
> For every question answered correctly or job completed successfully, the player earns one point.
> When all eight categories have been answered, the player with the most points wins!
What sets Monogamy apart from all other board games is that it has been designed to focus on partnership and communication rather than competition and luck. It requires both partners to participate to win actively and encourages conversations between them. This helps create an atmosphere where players become more engaged in what their partner is saying as they learn more about their partner's interests, needs, and desires. In turn, this can create unforgettable moments during gameplay as couples discover new ways to connect in ways that would not otherwise be possible if playing any other type of game.
Monogamy is more than just a board game; it offers a unique chance for couples to reconnect and recapture that spark by exploring each other's minds and hearts through conversation and reflection on past experiences together. Plus, it offers an inexpensive way for memories together as a couple—no particular skill set is required! So if you're looking to share some laughter while deepening your connection with your significant other, then why not give Monogamy board game a try? You won't regret it!
Fog of Love
Players: 2 | Age: 17+ | Game Time: 60-120 minutes
This captivating two-player game enables couples to explore the ups and downs of their relationship in a meaningful, engaging, and playful manner.
Created by Jacob Jaskov and published by Hush Hush Projects, Fog of Love is set up like a romantic comedy movie with players taking the role of two characters who are on a journey together throughout 12 game sessions (3 acts) to fall in love and find out if they can make it as a couple.
How to Play:
> Both players draw cards to move through the story.
> Each player creates their character and defines the details of their relationship with the other nature.
> Players can win or lose based on how they play during these story phases and when resolving conflicts that arise from choices in dialogue and actions taken.
> The game also includes unique cards which players can use for different effects and increase tension in the story.
> Players' final score is determined based on how well they fulfilled each phase's conditions and any bonuses for unique cards played successfully.
Despite being an interactive storytelling experience centered around a couple's relationship dynamics, Fog of Love relies heavily on strategy and luck due to its mechanic-driven design. Therefore, your success as a couple in this game depends on "feeling out" your partner successfully and ensuring that your strategies are correctly executed at crucial points during play. For example, if you want to focus your attention rather strictly on winning challenges, you must choose wisely when deciding which challenges to enter into – because every move has consequences!
While playing Fog of Love might feel like an escape from reality – where nothing matters except fun – it will most assuredly leave an impact beyond merely expanding participants' imaginations through its storytelling elements. The difficult choices made during gameplay remain with the couple throughout their real-life relationship journey, enhancing future conversations between both partners while deepening their understanding and empathy towards one another to tackle better any obstacles they may encounter together as partners.
What sets Fog of Love apart from other board games for couples is how important communication between partners is during playtime — not just talking at each other but genuinely listening intently so each partner can understand what kind of expression or input would best fit the current situation that arises during gameplay. Ultimately Fog of Love can have far-reaching effects beyond having fun with friends or family over board games; it helps create lasting bonds among couples that last even after game night has ended!
Bedroom Battle
Players: 2 | Age: 18+ | Game Time: —-
Bedroom Battle is just the classic board game if you're looking to up the romance in your relationship. This exciting and fun game is a great way to get couples playing together and having a blast.
Explicitly designed to bring people closer together, this game puts you and your partner through challenges that will have you laughing, thinking, cuddling, and competing with each other. It's an excellent choice for couples of any age and offers something completely different from popular party games like Monopoly or Clue.
How to Play:
> Each player starts with seven character cards and three unique action cards.
> Players alternate turns, starting with the player who has the first turn card.
> On each turn, a player can play up to 3 cards in any combination of attack, defense, and unique action cards.
> A player must discard one card after each turn.
> If an attack card attacks an opponent's character card and the defender doesn't play a defense card, then that opponent's character card is captured.
> The game ends when either one player captures all of the other player's characters, or both players pass on their turns consecutively.
In addition to being entertaining and interactive, this board game doubles as a conversation starter. With questions ranging from silly topics such as "What is your favorite ice cream flavor?" to more serious issues like "What do you think makes us unique as a couple?" it can be used as an opportunity for both partners to open up about their feelings in a fun and positive atmosphere.
The best part about Bedroom Battle is that it can be tailored to fit anyone's needs – whether newlyweds looking to spice things up or long-distance couples wanting an activity they can do together over video chat. No matter what situation you find yourself in, this exciting game is sure to bring some extra excitement into any relationship!
The Benefits of Board Games for Couples
Board games provide a great way to connect with your partner while having fun and competing against each other. Not only do they allow you to bond, but they offer just the right amount of variety of benefits to your relationship. Here are some of the reasons why playing board games and card game together is beneficial for couples:
Improves Communication
Board games encourage two people to communicate more effectively since they must devise strategies and plans together. This helps them practice essential communication skills like talking through ideas, active listening, and being mindful of the other person's feelings. These skills can be transferred into daily life, making communication between them smoother and allowing them to understand each other better.
Enhances Memory
Board games require memorization of certain moves or strategies. As such, playing these games regularly helps couples exercise their memories and make it easier for them to remember information about one another. It also helps build trust between partners if one remembers details that the other has forgotten or vice versa.
Encourages Creativity
The ability to think creatively is essential in any relationship, and board games spark creativity by forcing players to devise solutions and strategies that could lead them to victory points. In addition, playing these kinds of games encourages couples to be creative and push themselves out of their comfort zones – this can be especially helpful during difficult times in their partnership when problem-solving requires an extra bit of ingenuity.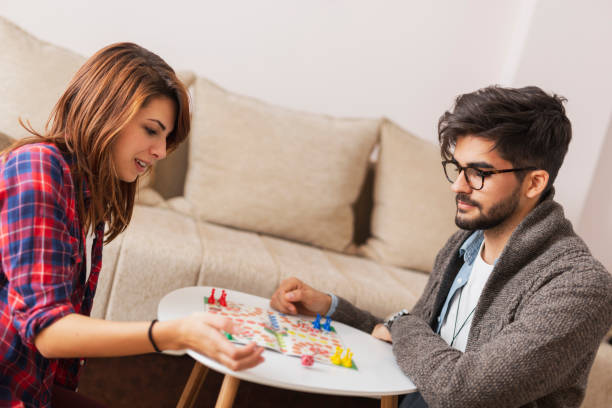 Enhances Problem Solving Skills
When playing their favorite games together, couples have the opportunity to practice problem-solving skills without feeling pressured. Instead, they can take time discussing different possibilities before committing to one solution – a skill invaluable in many areas of life, from work to family matters.
In Summary:
Board games for couples are a great way to have fun and build relationships. There is something for everyone, from classic strategy games to party-oriented pick-up and play card games. With the wide selection of products on the market, deciding which game is best for you and your partner's relationship can take time. Fortunately, there are a few things to keep in mind when selecting a board game that will work best for couples. First, think about the type of game each partner likes. Do they prefer strategic battles or informal group activities? Once you know their interests, consider the complexity of the game you choose—complex rules can slow gameplay and make playing more difficult than enjoyable. Finally, look at how much time you want to spend playing the game—some board games require hours together, while others can be finished in minutes.
No matter what kind of board game you choose, playing with your partner is sure to bring joy into your relationship. Whether a back-and-forth tactical duel or lighthearted competition, spending quality time together doing an activity like this brings couples closer together, creating strong bonds that will last long after the pieces have been put away and forgotten about. So don't hesitate—to grab some snacks, pick out a board game, and get ready for an evening full of enjoyment!
Playing board games may seem simple, but it offers numerous benefits for couples looking for new ways for player interaction and spending quality time together. Whether competitive, cooperative, or a classic game, there's something enjoyable about all types of board game playstyles, making them an ideal activity for those seeking shared experiences with friends or romantic partners!
— In this blog, we discussed the best board games for couples, including LOOPY, The Discovery Game, Love is Blind, Telepaths: Couple vs. Couple, Monogamy, Fog of Love, and Bedroom Battle. So hit the comments and let us know which games you'd like to hear about!